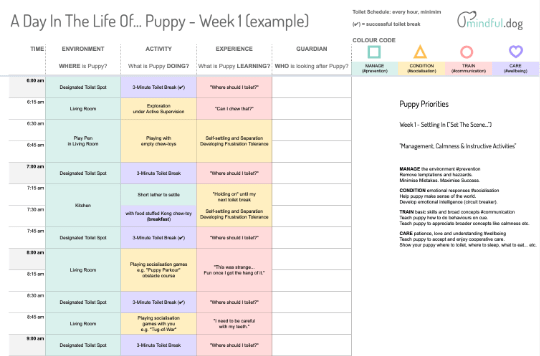 New Puppy Essential
This Workbook will Guide You Through The First 4 Weeks of Puppy Life
How do you know what to do with your puppy from day to day in those early weeks, in order to try and provide the best quality learning for their developmental stage and age?
Our printable, 4-week Puppy Training Day Planner workbook template will show you what a day looks like, in 15-minute intervals.
Purchase for A$11.99
Download Sample PDF file (6am to 9am from Week 1)
A Day in the life of... Puppy
Successfully raising your puppy, will require a lot of patience and understanding. For our young puppies between the age of 8 weeks and 16 weeks, these are the puppy priorities:

- Manage your puppy's environment to limit accidents and mistakes.
- Condition your puppy's emotional responses to novelty.
- Train your puppy to do specific behaviours on cue, and develop your puppy's understanding of what the most appropriate behaviour is depending on the circumstances.

Our Puppy Training Day Planner Workbook template puts these puppy priorities in the context of your 24h day, for your puppy's first four weeks at home. Each week's worksheet contains one 24h day as a template.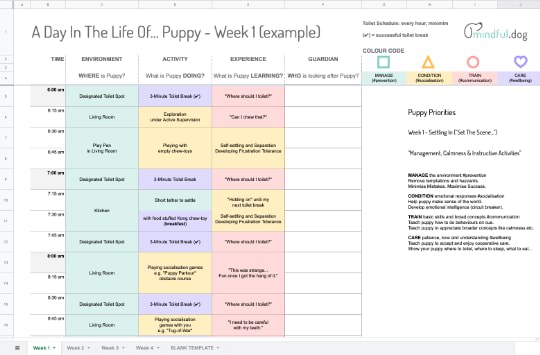 A 24h day divided into 15-minute segments.
4 consecutive weeks in your puppy's early development.
Incl printable PDF File Download (40 page A4 document).
Incl editable spreadsheet to customise your day.
Incl blank day worksheet.
We use Gumroad to process your order.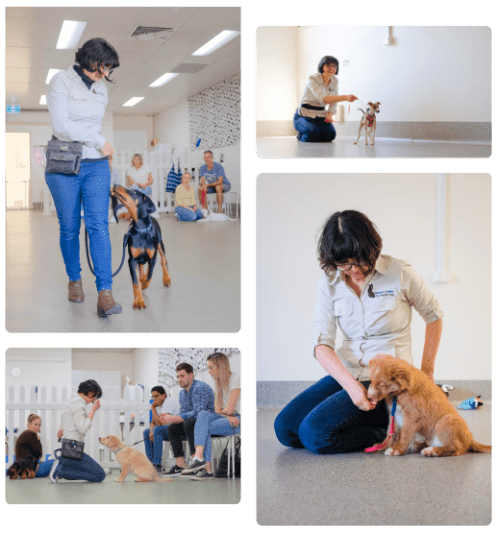 About
The Mindful Dog
At the Mindful Dog, we help you and your dog develop a healthy and happy relationship, so you can enjoy each other's company for many years to come.
We run puppy classes and private dog training on Sydney's North Shore, and recently added a virtual, live, online puppy pre-school to our training service offering.
In fact, this puppy training workbook is part of, and included in, our Puppy School curriculum.
As your qualified instructor, Radica will help you set the right priorities and put effective strategies in place to teach your puppy how to get it right.
Radica Raeves
CPDT-KA Certified Professional Dog Trainer
& Puppy Class Instructor.
Using This WorkBook as a Template
You Will Learn About :
Environment:
Where is puppy?
Minimise mistakes
Maximise success
Remove temptations
Limit options until capable
Crate, Playpen,...
Activity:
What is puppy doing?
Play time
Nap time
Toilet breaks
Socialisation
Training
Feeding,...
Experience:
What is puppy learning?
What should I chew?
Where should I sleep?
Where should I do my business?
What is "that"?
Being alone is ok...
What's Inside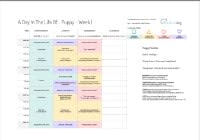 Week 1
Settling In
"Set the Scene..." (Calmness. Family Rules.)
"Management, Calmness
& Instructive Activities"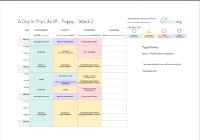 Week 2
Proximity Value vs Separation
"I pay close attention to you
and love staying close."
"Being Alone is OK"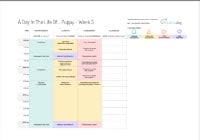 Week 3
The Wider World on Walks
"Help me make sense
of the world."
"What is that,
and what does it mean for me?"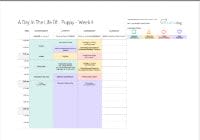 Week 4
Finding the Family Rythm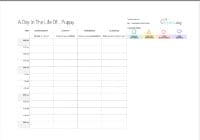 Blank Day
Choose your own adventure!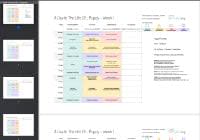 PDF Version
Ready-to-print A4 PDF version of all 4 weeks daily planners, including blank day (40 pages total).
Download day planner sample
Sample 1 page PDF file (6am to 9am from Week 1)
Keep up-to-date with day planner updates

By providing your email address you agree to receive periodic communications related to our puppy training products available on Gumroad.
Yes! I Want This Workbook Template...
I want to give my puppy the best start in life.
You scrolled all the way down to the end!
Use coupon code essential3off for A$3 off the full price. Bargain!
Check out the FAQ below while you're here...
A$11.99
We use Gumroad to process your order.
F.A.Q.
No, this workbook template is part of the
Puppy School
curriculum which includes weekly follow-up emails, course notes, videos, digital certificates and free membership to our
online support community
.
No, the Workbook template contains 5 days: one day for each of the 4 weeks plus 1 blank day. We devide the 24h day into 15 minute segments and for each individual week, the day would contain the same activities for that week, but different across the weeks as your puppy progresses its training.
We also included a blank worksheet day for you to "choose your own adventure".
You need a PDF viewer like Adobe Reader or Acrobat. Modern browsers have a built-in PDF viewer. The PDF is formatted in A4 format.
For the spreadsheet, to customize the workbook to your own daily schedule needs and puppy's level, you need an office application like Microsoft Excel, or Apple Numbers, or upload to Google Sheets. This would then allow you to print it onto other document formats, like A2, Letter,...
Gumroad, with headquarter in San Francisco (USA), is an online platform that enables creators to sell products directly to consumers. It takes care of secure e-commerce, so we don't have to.
Although the price here is advertised in AUD, you will be charged in USD on Gumroad, which may incure an additional fee by your credit card company (boo!).
Yes. After your purchase, Gumroad will send you an email confirmation.
If you don't see it in your Inbox, please check your Spam folder.